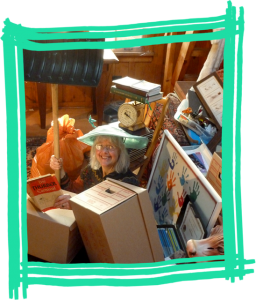 Sorting your clutter is a Trip.
Living in an uncluttered space is magnificent. Most of us dream of the serenity and grace this will bring to our lives.
What I am saying is: enjoy the process of going though your clutter. Take the time to open the garden of your life that you have stored for perhaps decades, gathering dust in the attic or closets, and celebrate your life's journey with all its bumps, bruises, struggles, joys, successes and loves. It's a trip, and while you are still on planet earth take the time to wonder about the choices you have made and the people who have influenced you.
There is still time to reach out and thank the people who have been inspiring teachers. Some may be gone. Hopefully, many will be alive. Your garden is a treasure and your past is still active if you reach out to those you've loved or admired and forgotten for decades in a cardboard box stuffed in the attic.
Some people you won't be able to find. Embrace them in your heart. Thank them for the part they played in your life, and send them on their way.